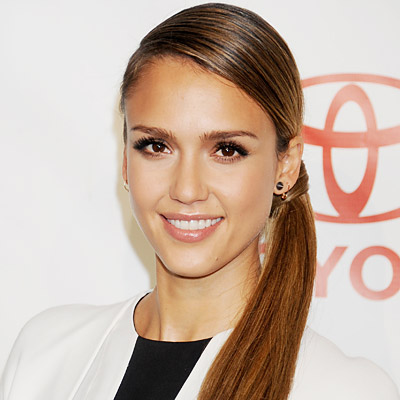 Thick Lashes
Long, lust-worthy lashes will never go out of style. Take notes from
Jessica Alba
whose luscious peepers added drama to her fresh look at the 2012 Environmental Media Awards. If falsies aren't your thing, try accentuating your lids by dusting a translucent powder over lashes before applying mascara to give the formula something to bond to. To finish the look, curl lashes for 20 seconds and gently comb out any clumps. Voilà — mile-long, defined lashes!
At
The Scenemakers
party in L.A.,
Jenna Dewan
looked glamorous with old-Hollywood inspired curls. To compliment her elegant white dress and understated accessories, hair stylist Kylee Heath created a sleek and sophisticated style for the actress. To get the look, Heath suggests starting by scrunching a dollop of mousse into the roots of damp hair to create volume. Then, with a medium-sized round brush, blow dry until hair is completely dry. With a 1" tongs, she then curled Dewan's whole head, leaving them pinned in place to set for 15 minutes. After veiling with hairspray, Heath gently brushed the curls out and then re-sprayed for maximum hold.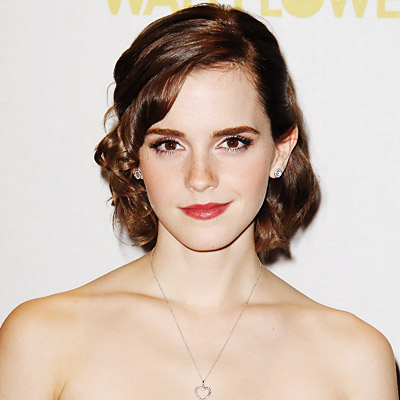 Glossed Rose Lips
Promoting The Perks of Being a Wallflower in London,
Emma Watson
turned to a glossed rose lip to make a sophisticated statement in her all black ensemble. Clean skin, understated eyes and filled out brows all anchored the star's shimmery pout. To help your gloss stay put, first fill your lips with a liner in a similar shade or a nude pencil. Then, gently tap the gloss along the center of your mouth and work outwards toward the corners. The result? Lightly pigmented flushed lips that give off just a little bit of gleam.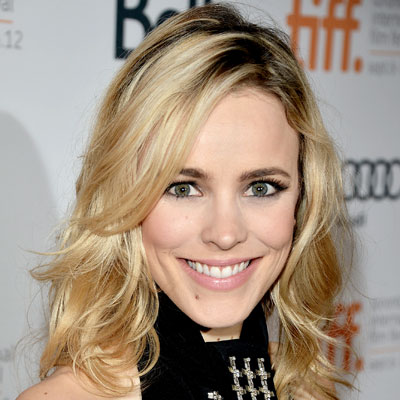 Tousled Waves
Even with summer slowly falling behind us, tousled waves with lots of texture never go out of style. Without a beach in sight, we're loving
Rachel McAdams'
effortlessly breezy waves. Celebrity stylist Thomas Dunkin suggests starting with damp hair and working in a volumizing spray-gel at the roots to add lift to the crown. After working in a dollop of mousse, create a piecey feel by twisting various sections and blasting locks with a blow-dryer. Once dry, use a large barreled curling iron to curl random sections to create soft, uneven waves. Finish the look off with a light veil of hairspray.
Glowing Skin
Look closely—
Hilary Duff
's radiant complexion can be chalked up to a little more than a generous swipe of blush. The golden hues in her hair play off of the warm undertones in her skin and tie her whole look together. The right hair color can really enhance your complexion, and an important part in preventing a botched dye job is to first determine your skin tone. An easy way to do this is to see which type of jewelry flatters you the most. If you have a warm skin tone like Duff, gold jewelry looks best on you. Stick to tawny hair hues like honey blond, violet-based browns, and other rich, warm colors. Alternately, if you have a cool complexion, silver jewelry is more flattering on you. To balance your skin's undertones, opt for blue-based blonds, chestnut browns, or a dark espresso shade. Diamonds may be a girl's best friend, but when it comes to tint and tone, the heavy metals know best!